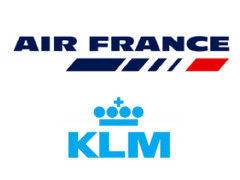 A partir de hoje até 19 de fevereiro, a Air France e a KLM oferecem promoção tarifária na classe econômica para diversos destinos na Europa. Com saídas de São Paulo, Rio de Janeiro e Brasília os preços estão a partir de US$ 759, como é o caso do voo com destino a Barcelona, Berlim, Bruxelas, Genebra e Veneza.

Para Londres, Lisboa, Milão, Berlim, Dublin, Barcelona, Genebra, Nice e outros destinos na Europa o preço está a partir de US$ 799. Outra opção são os voos da Air France e KLM, partindo de diversas cidades do Brasil – Curitiba, Porto Alegre, Belo Horizonte, Florianópolis, Vitória, Cuiabá e Goiânia – para vários destinos na Europa, a partir de US$ 899.

Veja nos links todas as ofertas das duas companhias aéreas: Air France e KLM.

As informações são"http://www.mercadoeeventos.com.br/site/noticias/view/102726/air-france-e-klm-lancam-promocao-a-partir-de-us$-759".Sempre é citado o link de referência. The information is "" Is always quoted the reference link.