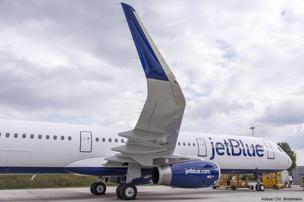 JetBlue Airways and Virgin America will move their Reagan National operations from the airport's old Terminal A building to the much bigger and more modern Terminal B/C building as part of the airlines' new flight offerings.
Southwest Airlines, which is also adding flights at National, will expand its operations at Terminal A.
All three airlines are expanding at National as a result of the US Airways-AmericanAirlines (NYSE: AAL) merger, which required the two big airlines to divest dozens of flights at National.
Once Southwest (NYSE: LUV) has added all additional flights, it will become the airport's third-largest carrier, with 11 percent of daily departures, behind American Airlines' 56 percent and Delta's (NYSE: DAL) 12 percent. JetBlue (NYSE: JBLU) will grow to 7 percent of daily departures, more than double its current National schedule.
JetBlue, which will eventually add 12 new flights at National, announced the first six planned additions earlier this month.
Virgin America, whose lone National flight right now is daily to San Francisco, will add four new flights. Southwest will add another 27 daily flights. Neither has announced their new destinations yet.
While Terminal A is National's oldest terminal, it is getting a major overhaul that is expected to be completed next year.
The information is "
http://www.bizjournals.com/washington/news/2014/03/19/jetblue-virgin-america-reagan-national-airport.html
" Is always quoted the reference link.