Uma aeronave turboélice fez um pouso forçado no Aeroporto Internacional de Newark, nos Estados Unidos, na madrugada deste sábado (18) após o trem de pouso apresentar problemas e não funcionar corretamente.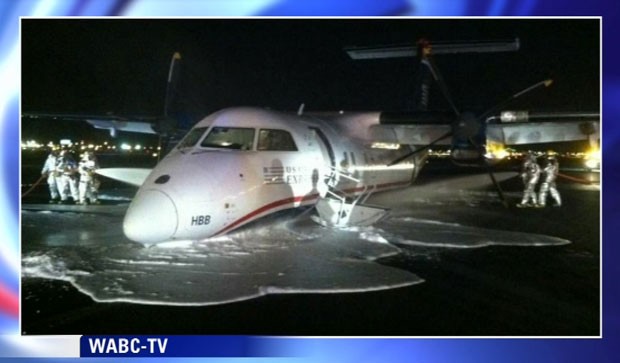 O avião transportava 31 passageiros e três tripulantes. De acordo com a agências de notícia Associated Press e com o canal "CNN", que entrevistaram um porta-voz da empresa, não houve feridos.

O voo 4560, operado pela Piedmont Airlinees, decolou da Filadélfia por volta das 23h de sexta-feira. Quando estava próximo de Newark, a tripulação percebeu um problema no trem de pouso e se preparou para a manobra especial.
Todos que estavam no interior da aeronave foram evacuados e levados para o terminal, onde recolheram sua bagagem e receberam atendimento. Uma investigação foi aberta para saber o que ocorreu.
A Piedmont Airlines de Havilland Dash 8-100 on behalf of US Airways, registration N934HA performing flight US-4560 (dep May 17th) from Philadelphia,PA to Newark,NJ (USA) with 31 people and 3 crew, was on approach to Newark when the crew reported they had a left hand main gear unsafe indication and requested a low approach to have the gear inspected from the ground. The aircraft was cleared for a low approach to runway 04L, offset left of the runway, tower asked the landing lights to be turned off to get a better sight of the aircraft. Tower subsequently reported the left hand main gear appeared only half way out of the wheel well. The aircraft climbed back to 3000 feet and entered a holding west of the aerodrome for about 90 minutes to work the checklists and burn off fuel. The aircraft positioned for an approach to runway 04L and landed with all gear up. The aircraft slid on its belly to a safe stop on the runway, the occupants evacuated through the left hand main door. No injuries occurred.
The airport was closed temporarily following the landing.
US Airways reported the aircraft landed with its landing gear retracted after a gear indication could not be resolved following multiple attempts to lower the gear. The aircraft landed safely on its belly, no injuries occurred. The passengers were evacuated and bussed to the terminal.
target="_blank">http://flightaware.com/live/flight/PDT4560/history/20130518/0254Z/KPHL/KEWR
Metars:
EWR 180651Z 26003KT 10SM FEW150 BKN230 16/07 A3021 RMK AO2 SLP229 T01610072
KEWR 180551Z 00000KT 10SM FEW150 BKN250 16/07 A3020 RMK AO2 SLP226 T01560067 10228 20144 50005
KEWR 180521Z 23004KT 10SM FEW150 BKN250 16/07 A3021 RMK AO2
KEWR 180451Z 19003KT 10SM FEW150 SCT250 16/07 A3020 RMK AO2 SLP227 T01610072 402390156
KEWR 180351Z 14003KT 10SM FEW150 BKN250 18/06 A3020 RMK AO2 SLP226 T01780061
KEWR 180251Z 07003KT 10SM FEW200 SCT250 19/05 A3019 RMK AO2 SLP221 T01940050 51024
KEWR 180151Z 06008KT 10SM FEW200 SCT250 20/06 A3017 RMK AO2 SLP217 T02000056
KEWR 180051Z 05004KT 10SM FEW200 BKN260 20/06 A3014 RMK AO2 SLP207 T02000056
As informações são"
G1 via The Aviation Herald
".Sempre é citado o link de referência. O conteúdo é de Responsabilidade:
Samuel Pereira